Laser Therapy A Great Way to Treat Chronic Pain
Laser Therapy A Great Way to Treat Chronic Pain
Written By Russo Chiropractic on September 2, 2021
---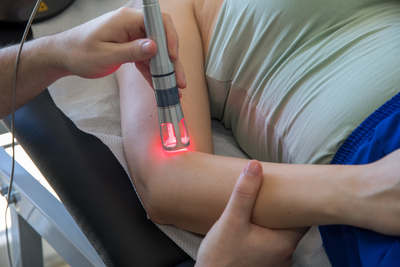 According to a 2016 report, an estimated 50 million American adults suffer from chronic pain. However, instead of surgery or pills, patients are turning to laser therapy for pain relief. And it's producing life-changing results.
At Russo Chiropractic in Tallahassee, we utilize a state of the art deep penetrating laser designed to treat soft tissue trigger points, enabling us to treat those with joint pain, degenerative conditions, tendonitis, spinal herniations, and more.
Laser Therapy and Pain
Laser therapy is a non-invasive, drug-free alternative to surgery and requires little to no recovery time. It's shown to reduce inflammation at the cellular level and increase range of motion.
Laser therapy stimulates regenerative activity at the cellular level. Injury causes damaged cells to struggle to function properly, sometimes making it challenging to perform repairs. Low level lasers are able to penetrate deep enough through your skin to help restore normal cellular function.
This gives cells an activity boost and improves circulation, both of which lead to tissue healing. It also tackles pain by reducing inflammation, swelling and hemorrhaging, and helps lower oxidative stress at the cellular level.
Over 4,000 studies demonstrate the positive effects of laser therapy, treating:
Sprains and strains
Post-surgical pain
Whiplash injury
Arthritis
Neck and back pain
Fibromyalgia
Migraine
Frozen shoulder
And a whole lot more
The FDA has approved laser therapy for relieving various forms of pain, including joint and arthritis pain, for joint stiffness, relaxing muscle spasms and improving blood flow. Laser therapy is endorsed by the World Health Organization, the American Physical Therapy Association, and the International Association for the Study of Pain.
Get the Best Laser Therapy in Tallahassee
Dr. Fred Russo, CCSP, has practiced chiropractic care for over 26 years and also holds a degree in functional neurology. He's been an athlete--both competitive and recreational--for decades. He understands both the physical and emotional strain of injuries firsthand, and wants to get you back on your feet as soon as safely possible. The best way is to tap into the body's natural and incredible ability to heal itself.
Have questions or need to schedule an appointment? Give us a call at (850) 422-2225 or go online and fill out a contact form.

Posted In: Chiropractic Laser Therapy